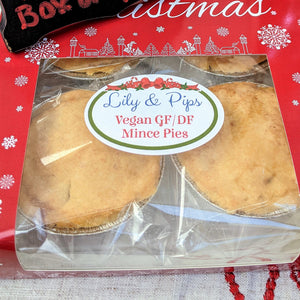 Is there anything more festive than a freshly baked mince pie? These mince pies are made with gluten free, dairy free pastry filled with traditional mincemeat with an extra splash of Brandy. Suitable for vegetarians and Vegans. Contains no egg products. As the icing sugar I use carries a warning that it may contain traces of egg I leave them naked. 
Eat them fresh or freeze them for later. Warm them in the oven for a tasty treat.

You'll receive 4 deep dish mince pies in a festive box. Pies are individually wrapped and can be frozen. 

If you wish to specify a date for shipping please leave a note in the box at checkout.
After the pies arrive please consume or freeze within 5 days, or by use by date.

If you are sending these as a gift please ensure the recipient knows they are receiving a perishable product as we do not accept returns.
Every care is taken for your pies to arrive  as shown, however, I cannot offer any guarantee the decoration will be as shown upon arrival, for this reason they are non-refundable.
 The photo shows 4 pies in a box, you will receive a larger box containing 6.