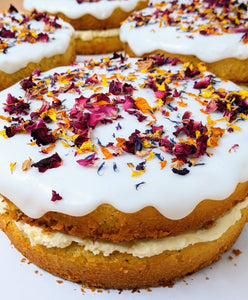 Fresh lemon juice and zest give this cake a beautiful summer flavour, but it's the addition of elderflower cordial that really takes it up a notch. The finely grated Courgette keeps the cake moist and adds a lovely effect through the cake layers. This 2 layer cake is filled with lemon elderflower buttercream and is topped with lemon glace icing. Decorated with a sprinkling of edible dried flower petals.
Available for pick up by prearrangement  only.
8"/20cm size serves 10-12 depending on slice size £35.
6" size serves 6-8 £25.