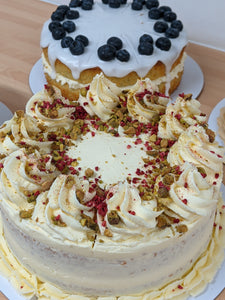 Tropical passionfruit is a slightly tart fruit which tastes like summer itself. A 2 layer cake drizzled with passionfruit juice, filled with passionfruit curd and passionfruit buttercream. Decorated with passionfruit buttercream and sprinkled with crushed pistachio nuts and freeze dried raspberries. 
The 8"/20cm cake serves 10-12 £35.00
The 6" cake serves 6-8 £25.00
These cakes are available for pick up by prearrangement only.